Equipment notes
When you start playing wearing the right clothes, and having the right equipment in your bag, can help you become a better player faster. So here are a few things to think about:
Clothing
Anything comfortable is fine. Shorts are not a good idea if you plan on doing a lot of sliding. Taking a change of clothing is a good idea for tournaments. Personally I find a change of socks is more important than anything else, especially when it rains ! I like to wear a sweatband on my wrist when the weather is hot so I can wipe any sweat away off my throwing hand. A few people find that the knob of the bat hits their wrist as they swing the bat, if this gives you a problem a sweat band will also help protect your wrist. (It also means you are turning the bat over too soon in your swing - talk to your coach!). A small towel can be a good idea for a pitcher so they can dry the ball off in wet weather - but bear in mind that you can't leave it on the playing field so you will have to tuck it in your waist band. Towels are also useful for keeping bat handles dry in the wet.
Batting gloves improve your grip on the bat and will also help if you find the bat stings when you hit the ball. If you can't get hold of batting gloves then golf or driving gloves are very similar.
Footwear
Trainers are OK when you are starting but if you play in wet weather it won't be long before you end up on your backside ! Metal and hard plastic studs must NOT be worn. If you are going to play seriously buy something with a stud. Personally I like an astro-turf boot with just a partial rubber stud as I find full studs collect too much mud and sand and slow me down.
Sun gear
Having a baseball cap or other hat available in your bag is a good idea, especially when the sun is low in the sky. Sunglasses are essential at times, and at less than a fiver from ASDA there's no excuse not to have them just in case.
Protection
Infielders should at least think about wearing a box (that's a cup for our American readers). Pitches in England are usually bumpy and it only takes one bad bounce to put you in hospital. When I pitch I like to wear shin pads and I've also wondered about getting a mouth guard. I don't usually bother with shin gurds unless I'm pitching, but they can be a good idea for other infielders, particularly those worried about bruises on their legs !
Catchers' masks are not usually worn but some people won't catch without one. Obviously the risks are nothing like as serious as in baseball or fast pitch but there is always the possibility of a foul ball just skimming the bat and coming straight back. If you play at catcher at least try playing in a mask and if you can put up with it then do.
Batting helmets have become increasingly popular in British Softball over the last few years and are now COMPULSORY in the Manchester league. Whilst they are obviously not needed when you are actually batting they do protect you from getting hit by an errant throw when running round the bases. As there are plenty of players around with strong arms and little accuracy it is well worth thinking about getting one.
Other stuff
It's a good idea, at tournaments particularly, to carry sun cream and insect repellent in your bag. I always like to have some Ibuprofen around as they aid recovery after a hard day in the field. Always have water available, again this is more important at tournaments when you may be out in the field all day.
Umbrellas can be useful not just for rain but for keeping the sun off at tournaments. Folding chairs are also worth thinking about, and some teams use tents and gazebos - it's a question of balancing usefulness against portability.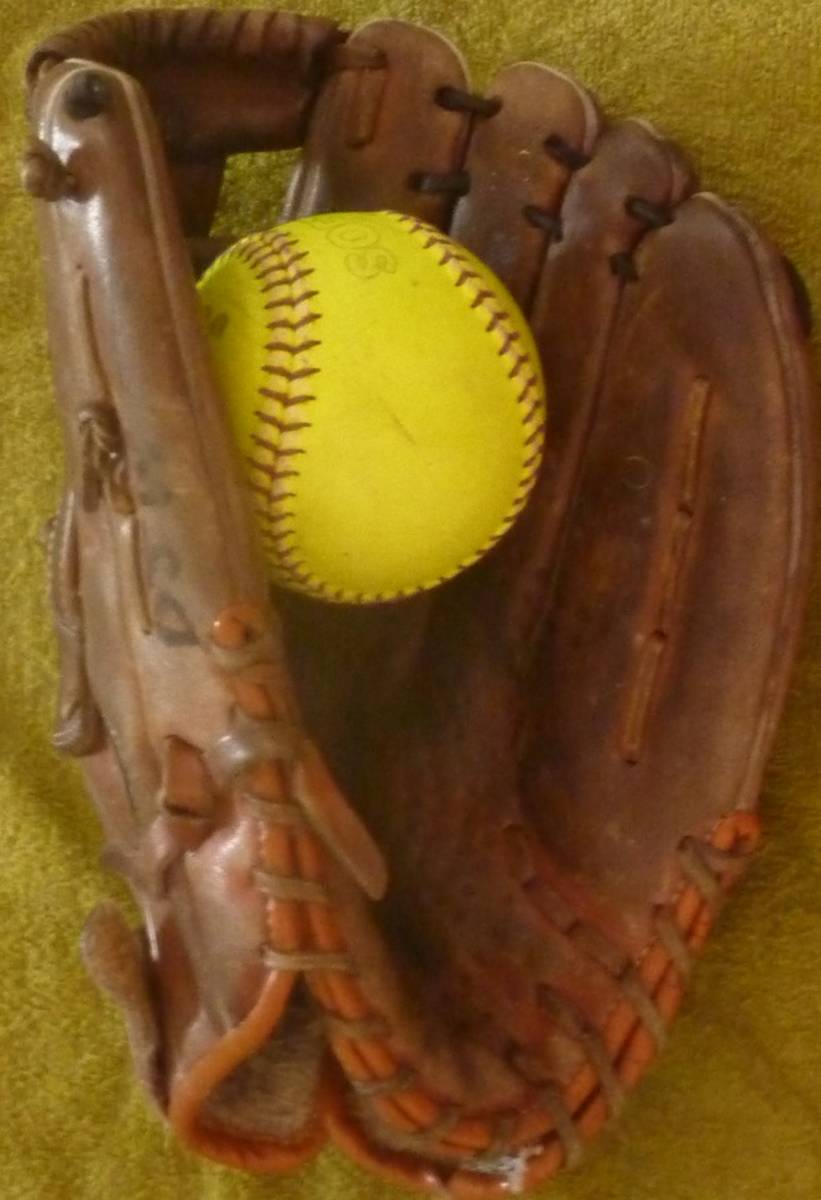 Playing equipment
Most teams have team equipment which new players can use. This is good not just because you can starting playing straight away but because it gives you the opportunity to try different gear and find out what sort of glove and bat suit you before you hand over any cash.
Fielding Gloves
The biggest thing to think about when getting a glove is getting one that feels comfortable on your hand and which you can control. Basically you get what you pay for, artificial leather gloves are a waste of time and the better leather you get the better the glove. The larger the glove the easier it is to catch the ball but the harder it is to get the ball back out of the glove afterwards. As a result outfielders and first basemen usually have a larger glove than middle infielders. As a softball is bigger than a baseball most players like a slightly bigger glove, at least 12&1/2".
Once you have a glove make sure you look after it. Get it oiled, in my experience even the "game ready" gloves benefit. After it's oiled you need to take the glove, put a ball in the "pocket" of the glove - the part where you would look to catch the ball when playing - and wrap some elastic material (e.g. elasticated bandage) round the glove to hold the ball in place. If you do this regularly with the glove between games the glove will shape itself round the ball, making it easier to use and improving the chances of you catching balls in play.
Bats
Again you need to find what is good for you. Whenever you get a chance to try a variety of bats do so and see what you like. "End weighted" bats will swing heavier than their stated weight and usually suit big hitting sluggers. More evenly weighted bats are better for base hitters. I'm a firm believer in the light bat theory. Most women should use a 26oz or lighter bat and 90% of men should be looking for something between 26 and 28ozs. If you are looking for a bat under 26oz don't forget that it's perfectly legal to use fast pitch bats in slow pitch. Make sure the bat you buy has a current valid ASA stamp and isn't on the banned bats list. As with gloves you generally get what you pay for, cheap bats are cheap for a reason. That said it can be well worth looking at last year's models rather than the latest ones in the hope of getting better value for money.