Tournament Reports
NW2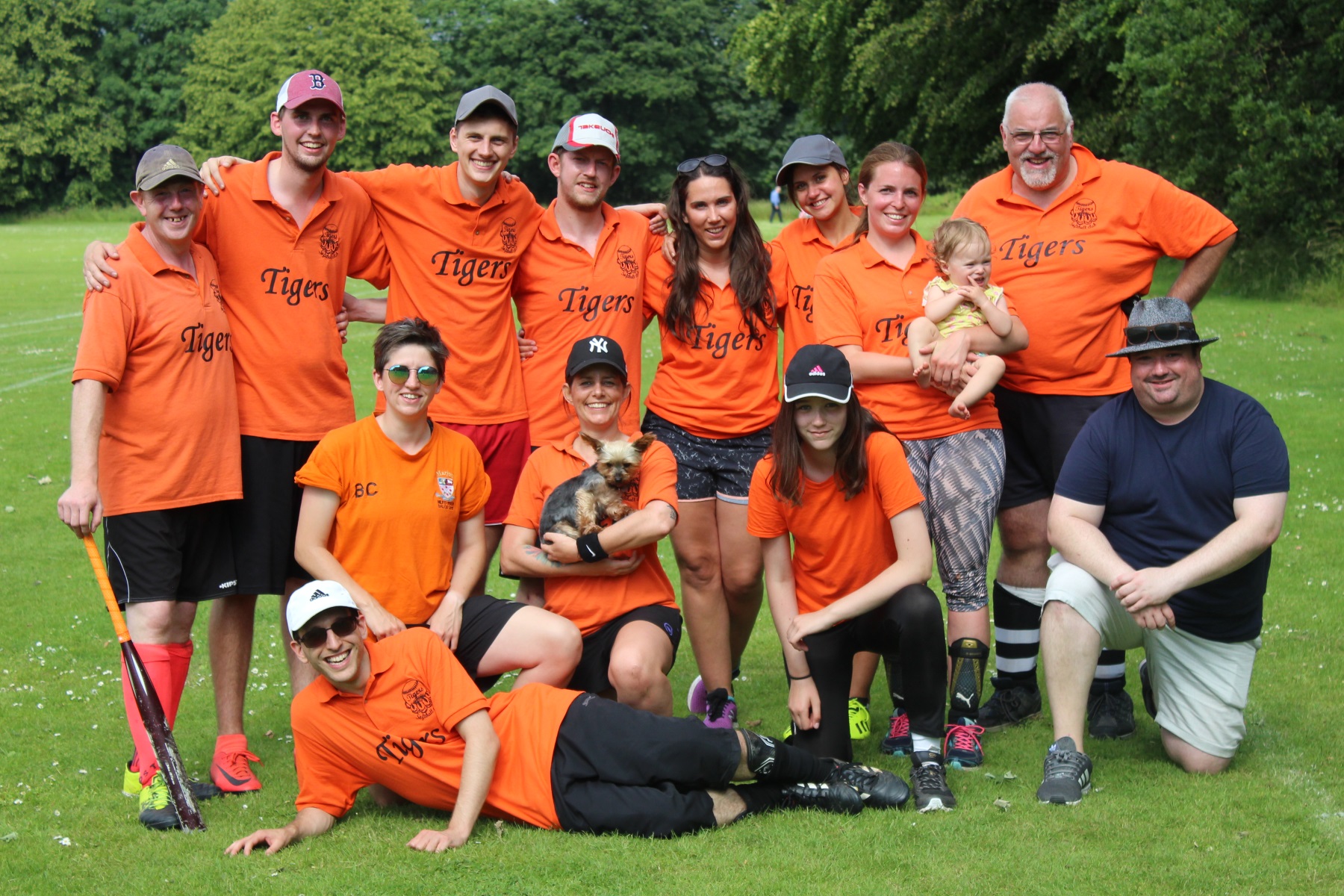 Opponent
Score
Thunder
W. 7-6
Freeze
T. 10-10
Stingers
W. 8-7
Base Inv.
T. 10-10
Bobats
L. 1-21
Dales
T. 10-10
Bobcats (F)
L. 5-10
The Tigers put in a series of very creditable performance in the heat at NW2. In the round robin we had 2 wins, over Thunder and Stingers, a surprising total of 3 ties, against Freeze, Base Invaders and Dales, and 1 loss, to the Bobcats in what was our 5th consecutive game - definitely a game too far in the very testing conditions. In the 3rd place play off game we again lost to the Bobcats but only after a much more creditable performance.
James was our main power threat and hit 4 homers over the day. Lynsey led OBP standings at 692, James and Steve were tied for the male lead, each hitting 647. Steve and Dave both pitched well. Sandra and James both did good work in both infield and outfield. Aiden took a couple of really nice catches in the outfield. Oli did good work at short stop and lots of people got to try out new fielding positions, something which produced lots of promising performances. Everyone worked hard all through the day.
We had 3 players making their tournament debuts and 3 others playing only their 2nd tournament day, all of them got lots of useful experience. Stevie G. wasn't able to play after his recent injury but he was still a valuable member of the team, scoring the games and helping with the base coaching. We got through a lot of water, and a lot of ice cream, over the day with some of us then moving on to Jackie's "Not quite Canada Day" poutine party - an enjoyable end to a long but excellent day.
| | | |
| --- | --- | --- |
| MVPs | | |
Leeds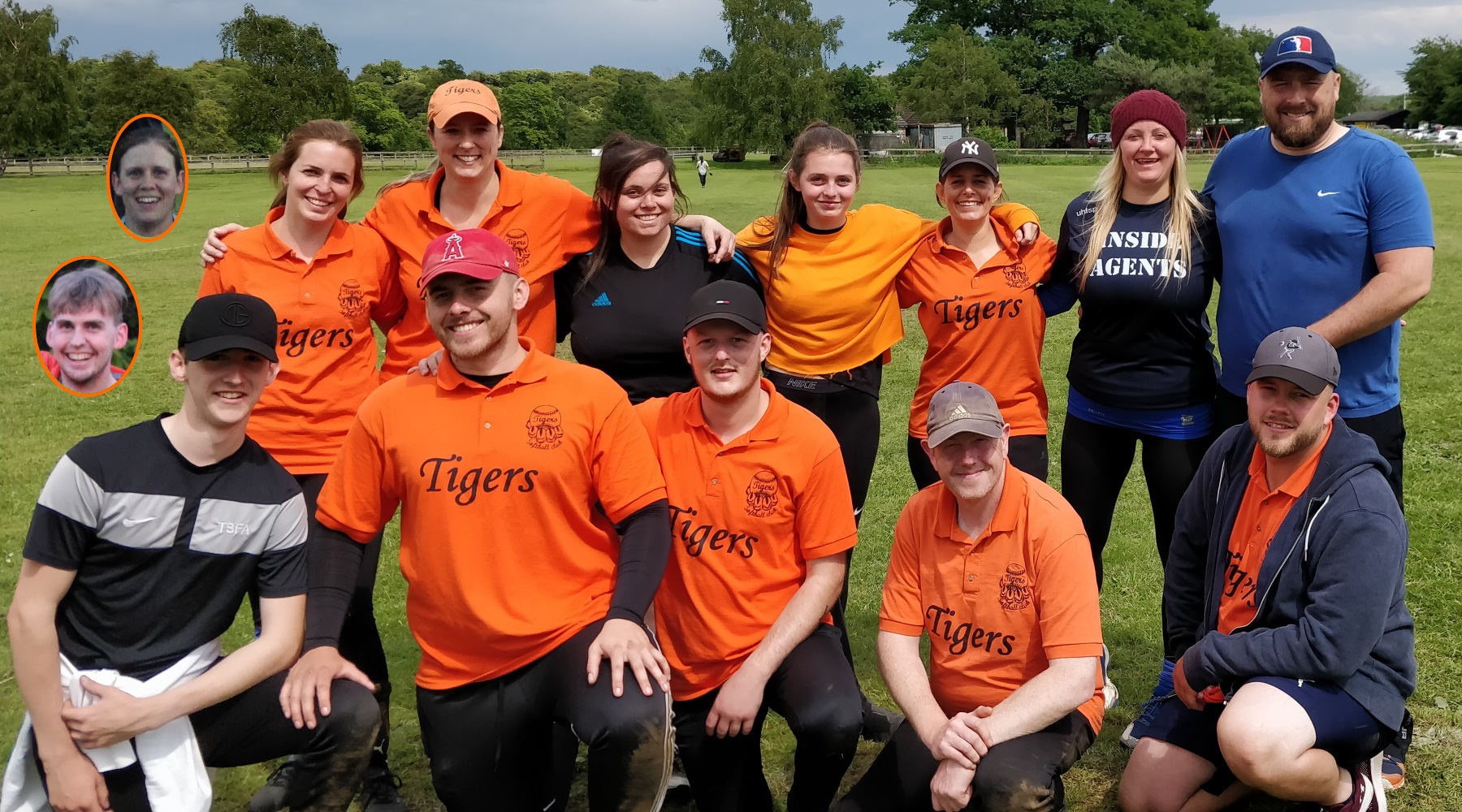 Opponent
Score
Pyros
W. 13-11
Sombreros
W. 14-8
AJs
W. 14-2
Sharks
W. 8-3
Sheriffs
L. 15-21
Terriers
L. 7-10
Marauders
W. 14-4
Bombers
L. 9-12
The Tigers, with assorted guests, had a highly successful time at the Leeds tournament, with a 100% record in the initial group stages and eventually finishing in 4th place. That 100% record put the team in the platinum competition where we won 2 games out of 5 and came within 1 out of getting to the 2nd v 3rd play off.
Craig was the leading Home Run hero with 6, Matty hit 3 and Brad, Dan, Jonny, James and Rachel got 1 apiece. Brad (857) was the male OBP leader with Holly (714) leading the way for the women.
Captain Jonny picked Craig and TK as the tournament MVPs, Craig for his batting prowess and TK for her impressive work on 1st. He also said "It was a really positive weekend and I feel that everyone can take something good away from it. It was also really pleasing to hearing how much our guests enjoyed playing for Tigers and felt really welcome with the team."
He was also impressed by the way Matty and Sandra played over the weekend and gave Rachael a special mention for taking two massive hits (away) from Benkei and Ross.
| | | |
| --- | --- | --- |
| MVPs | | |
Sefton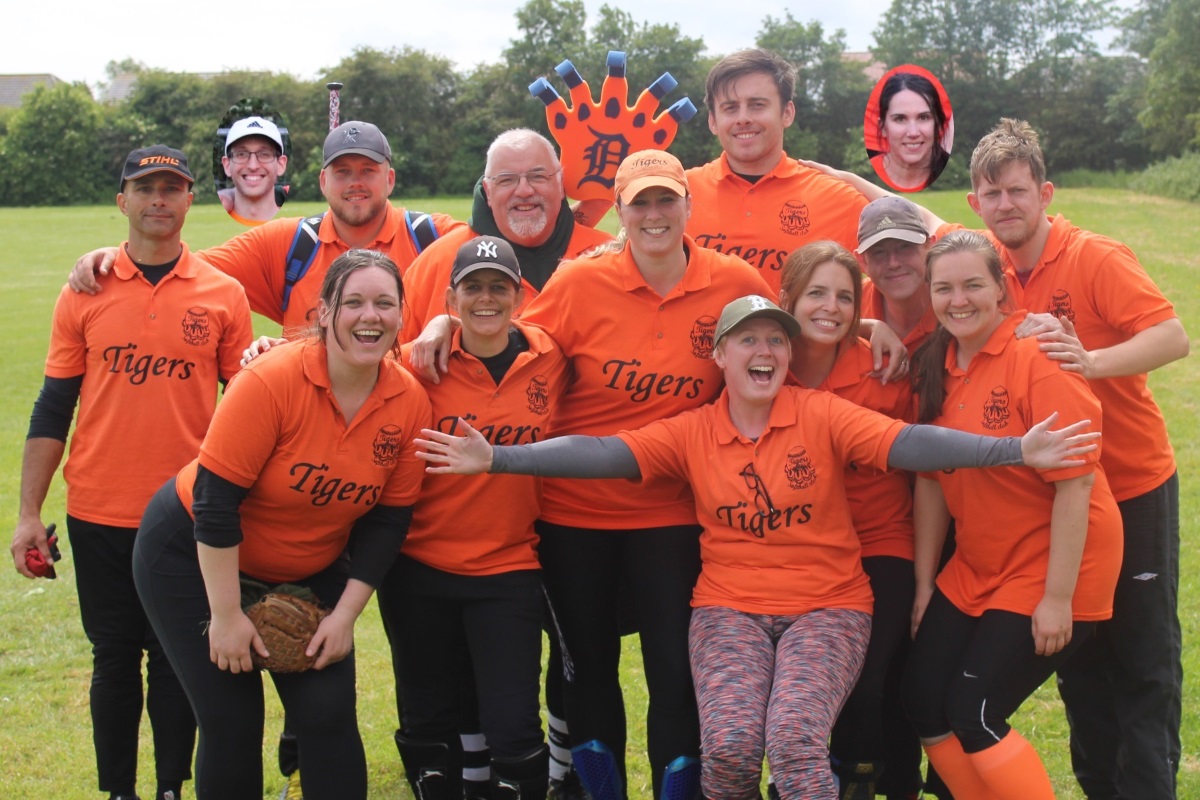 | | |
| --- | --- |
| Opponent | Score |
| Camels | L. 4-9 |
| MKD | L. 3-19 |
| T. Dod | L. 2-20 |
| Fins | L. 8-16 |
| Bobcats | W. 11-8 |
| Dales | L. 8-9 |
| Sharks | L. 3-10 |
| Vikings | W. 9-7 |
| Bolts | L. 2-11 |
The Tigers had an enjoyable time at the Sefton tournament. A long weekend of Softball at a nice new venue, sunny on Saturday and Sunday afternoon though very wet on Sunday morning. We welcomed old boy Mike back to the fold and rookie Rachael had her first taste of tournament play.
The first 3 games sorted out the comp. and rec. placings and we found ourselves with 3 tough fixtures. A respectable peformance against the Camels was followed by large losses to the MK Diamonds and Traveling Dodgers.
After the split we had two more Saturday games, a tough loss against the Fins followed by a morale boosting victory against our old foes the Leeds Bobcats.
On Sunday we had a heart braking loss against the Dales followed by a respectable defeat against the Sharks. Third game up gave us our second win, a 9-7 victory against a strong Vikings side. The final game of the weekend had a definite "game too far" air about it and we were well beaten by a heavy hitting Bolts team.
Saturday rookies Rachael and Aiden both did us proud with Oli also playing well on Sunday. Steve did all the heavy lifting at pitcher with Dave chipping in for a couple of games on Saturday. Mike did a good job at short stop and everyone worked hard and made some fine plays over the weekend.
Male OBP leader was Brad (632) with Mike and Craig close behind (579). Female leader was Jackie (684), with Caroline (533) in 2nd place. Home Run Hero was Craig (5) with Brad also hitting a pair of 4 baggers.
With a big chunk of our Division 2 line-up missing and a number of rookies in the team we put in some good performances against some tough opposition and ended the weekend with our heads held high.
| | | |
| --- | --- | --- |
| MVPs | | |
LGBT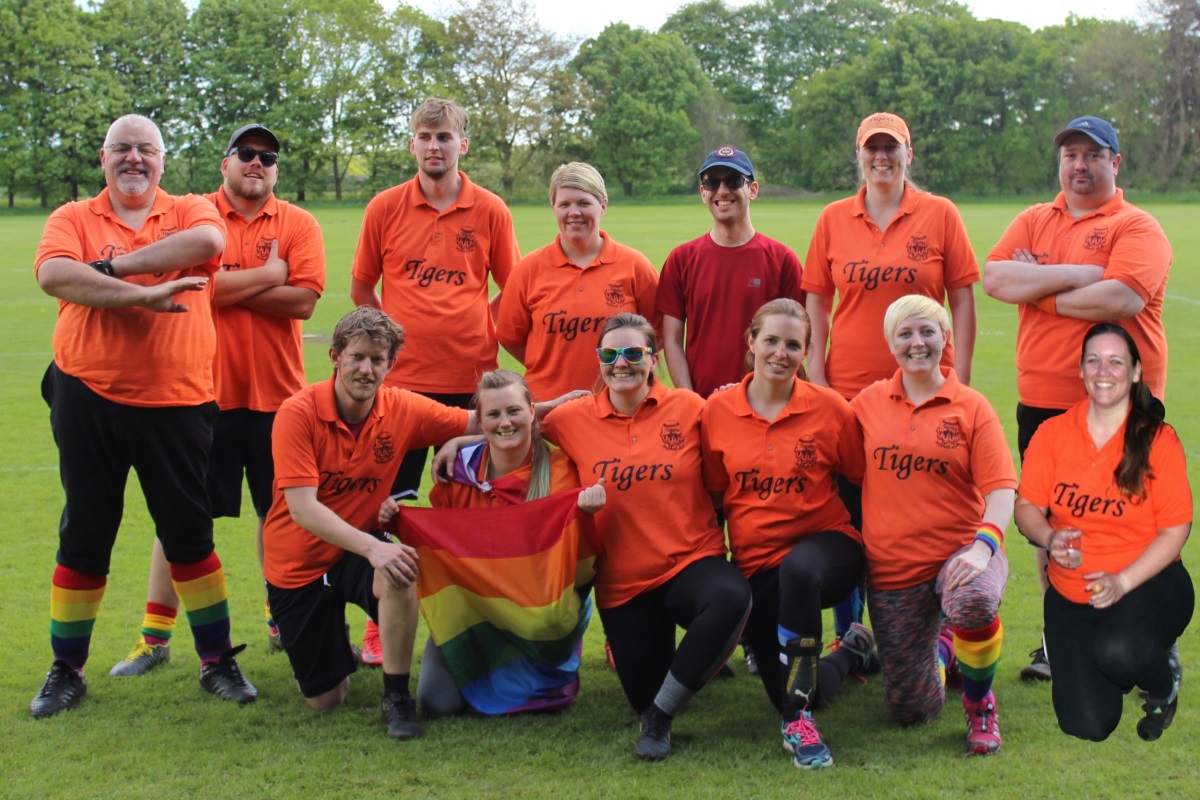 | | |
| --- | --- |
| Opponent | Score |
| Base Invaders | L. 10-11 |
| Camels | W. 13-3 |
| Chester | W. 12-4 |
| Bombers | L. 5-11 |
| Bombers (SF) | L. 4-12 |
An enjoyable day out in the sun that gave us some valuable game time - and we won a couple of games as well. The day didn't start on a good note when Matty had to drop out early on Saturday morning, but with a bit of help from old boy Michael and an emergency call up for Craig we kept the show on the road.
We started the day with a high scoring, close, loss against the Base Invaders in which both teams batted a lot better than they fielded. More impressive batting, and some tighter fielding then gave us two good wins against the Camels and the Chester Drawers before a loss in our final group game against the heavy hitting Bombers team.
After an hour's gap that put us in the silver cup semi-final against that same Bombers team, a game in which our bats never really got going.
OBP queen over the day was Sandra (800) with James (750) being the male leader. James was also our Home Run leader with a brace, Craig and TK also one Home Run each. In the field there were lots of encouraging performances. Worthy of particular mention were Oli, who did a good job at short stop, and Alyssa who put in an impressive performance at pitcher in our 3rd game.
| | | |
| --- | --- | --- |
| MVPs | | |
Firstball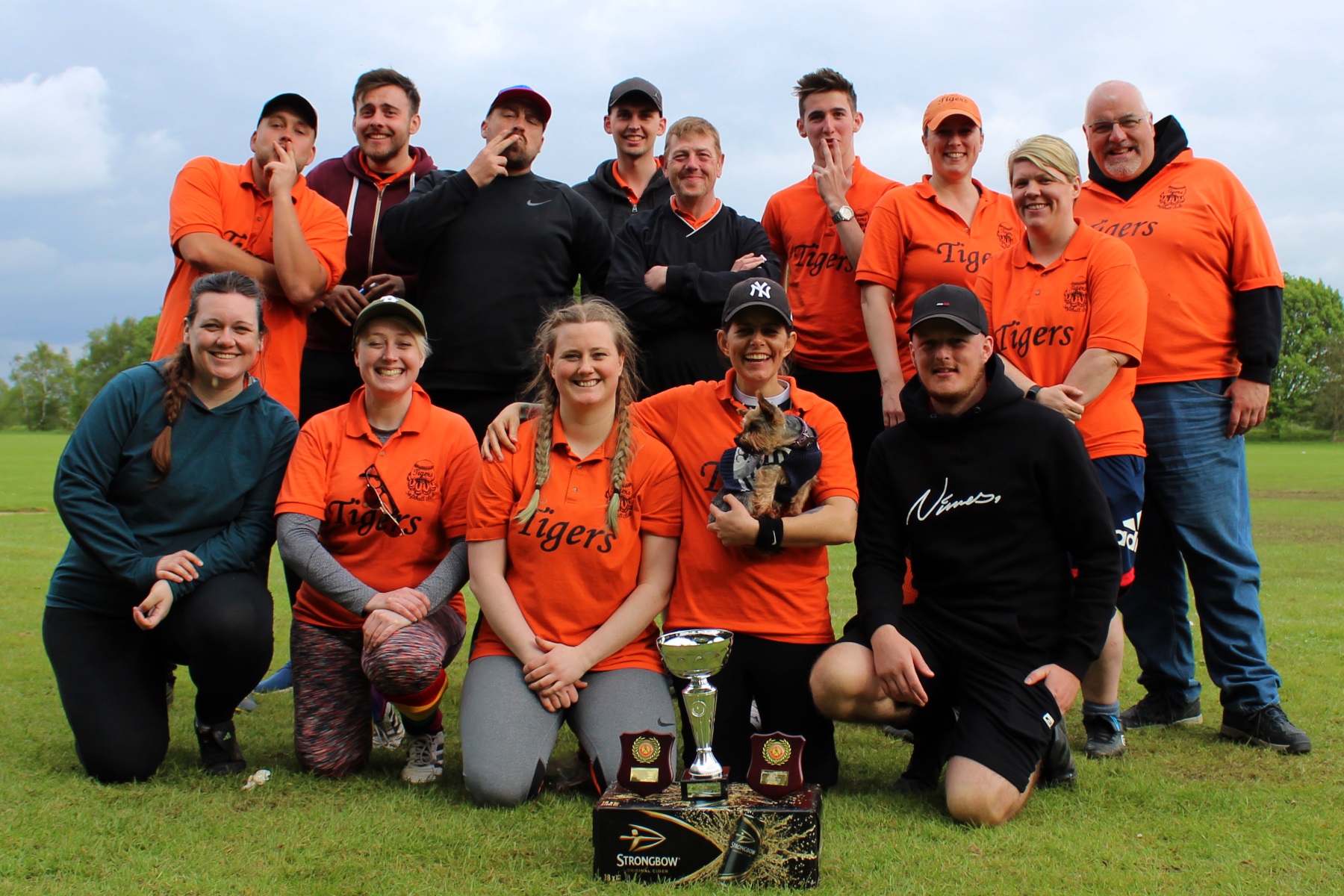 | | |
| --- | --- |
| Opponent | Score |
| Speeders | W. 17-3 |
| Camels II | W. 8-0 |
| Bobcats | W. 18-7 |
| Hackers | W. 7-3 |
| Sharks | T. 5-5 |
| Bats | W. 11-6 |
| Meerkats | T. 13-13 |
| Meerkats | W. 9-7 |
| Sharks | W. 23-8 |
A successful weekend at Firstball culminated in the undefeated Tigers taking the Silver Cup after a blistering performance in the final against the Sharks. It was a weekend of two halves with a wet cold and windy Saturday followed by a sunny, warm Sunday that reminded any doubters why we love playing Softball.
On Saturday we star with a big win against the Speeders followed by a shut out of Camels II. In the afternoon we had a good win against the Bobcats followed by a scratchy performance in a narrow win against the Hackers. Our last game of the day was an agreed tie against the Sharks - it was windy, wet and horrible so we went to the pub.
On Sunday morning a solid win against the Bats was followed a wild, high scoring ties against the Meerkats. At the end of the round robin we ended 2nd (on runs conceded) to the Sharks.
Our semi final was a rematch against the Meerkats. Again there was some big hitting but the defences turned up this time and we won a close encounter to reach the final.
In the final against the Sharks we put in our best performance of the weekend. Big hitting and good defence, highlighted by Alyssa's bases loaded running catch in centre field that snuffed out the Sharks last chance of getting back into the game.
Overall we had a really successful weekend. Home Run leader was Dan(4) followed by Brad and Matty (2 each), then Jonny, James and Steve with 1 apiece. Jonny (789) was the male OBP leader closely pursued by Matty (773). TK (739) was the female leader with Jackie (722) close behind.
In the field both pitchers played well all weekend. Jonny, Craig and Alyssa were all excellent in the outfield. Mikala was impressive at 2nd (and hit with real power). TK and Jackie both did fine jobs at first. Everyone else contributed lots of good work throughout a long weekend that left us with a trophy, booze and lots to look forward to this season.
| | | |
| --- | --- | --- |
| MVPs | | |
North West 1 (Comp)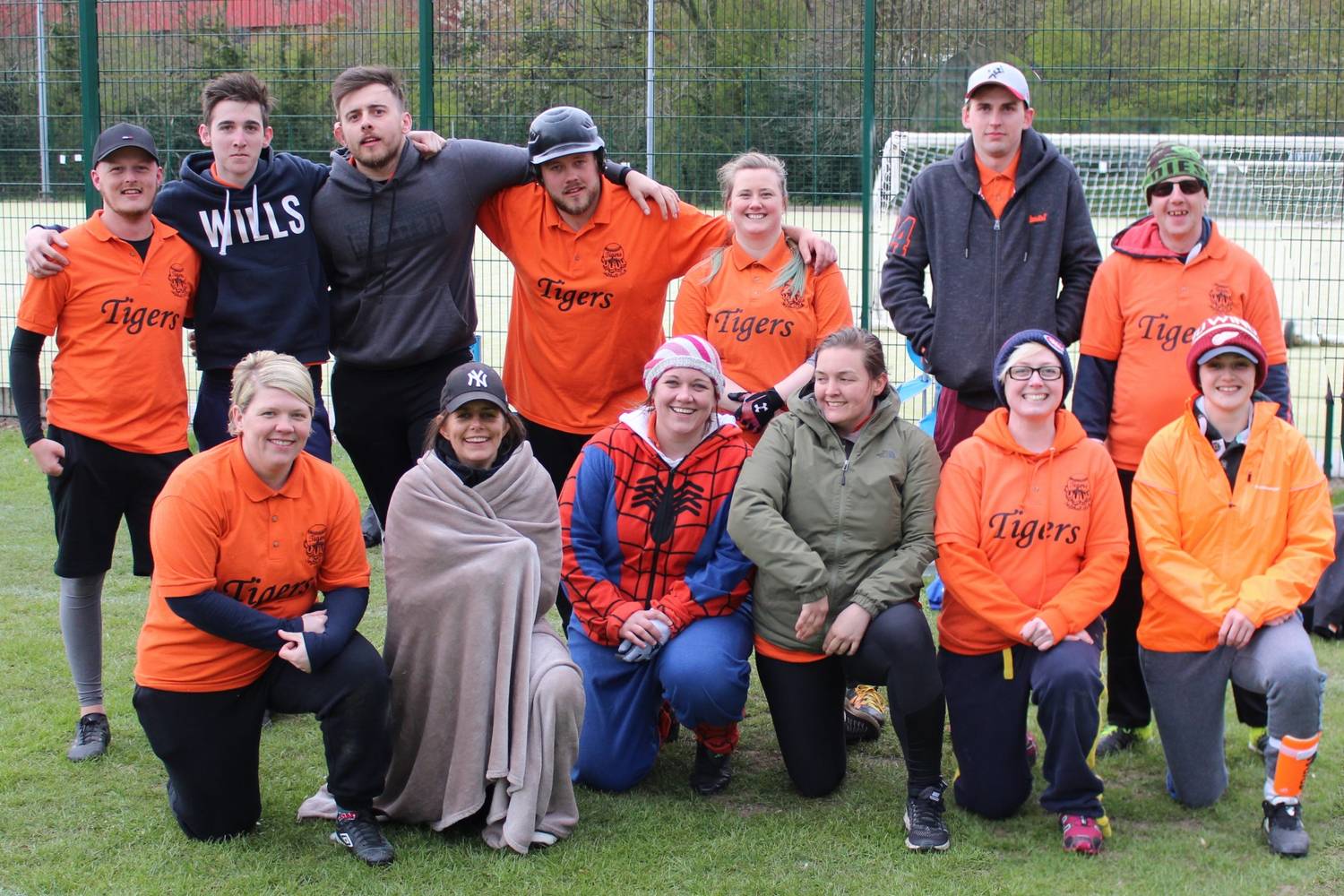 | | |
| --- | --- |
| Opponent | Score |
| Mavs | L. 1-23 |
| Mayhem | W. 6-2 |
| Dodgers | L. 8-12 |
| Latinos | L. 6-7 |
| Camels | L. 9-26 |
| Sox | L 3-17 |
| Dodgers | L. 6-13 |
A tough day at the office for our Comp team but we played hard all day, got one win, came close to another and didn't let ourselves down in a long, hard (and cold) day of Softball. We were the only second division team in the competition and overall our performances against Division 1 and NSL teams were more than respectable.
We started with a heavy, sobering (in more ways than one), defeat against the Mavericks before enjoying a well deserved victory against Mayhem. We were competitive in our next 2 games against Latinos and Dodgers before suffering further heavy losses to the Camels and Sox. Our final, placing, game saw us facing the Dodgers again and we went down to a heavier, but still respectable, defeat than in the our first outing against them.
Batting leaders over the day were Mikala and Matty. Home Run champions were Dan and Alyssa with 2 apiece, Matty, Brad, Craig and Jackie also chipped in with 1 each.
In the field there were lots of nice plays and hard work all through the line up. Steve and Matty both pitched well. Dan showed impressive range at short stop. Holly did some nice work in both infield and outfield. Craig was death to flying things in left field, Caroline continued from Saturday as Queen of turning pop ups into outs. Everyone else did lots of good work and the whole team kept their heads up through what was a long, hard day.
The weather was dry again, though bitterly cold and we certainly got our money's worth with 7 games in total, indeed those who played both days should be in mid season form by the time the league campaign starts in a couple of weeks, if they've recovered by then!
| | | |
| --- | --- | --- |
| MVPs | | |
North West 1 (Rec)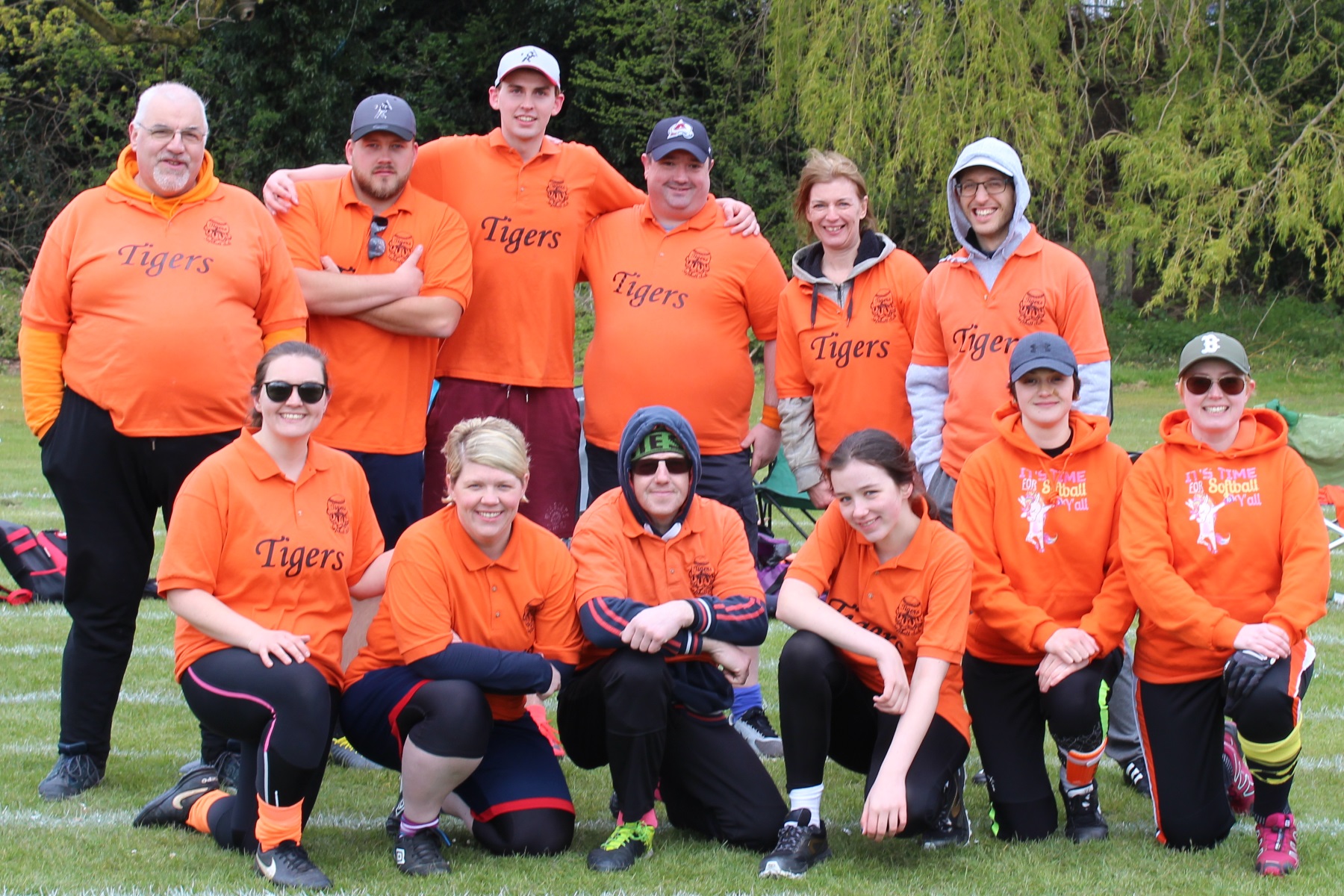 | | |
| --- | --- |
| Opponent | Score |
| Swingers | W. 12-6 |
| Leeds | W. 17-7 |
| Meteors | W. 17-2 |
| Thunder | W. 13-12 |
| Bobcats | L. 10-12 |
A successful day for our recreational level team that saw us finish as runners up in North West 1 tournament. Three easy wins against the less experienced teams were followed by a close run fourth game victory against a strong Thunder team. That took us through to the Gold final where we went down to a narrow loss against our old foes the Bobcats. The tournament gave Evie, Janine and Aiden their first taste of competitive softball. Mikala returned to action after a multi-year gap and Steve Girling after a year off.
In the field Steve B. did a fine job at pitcher. James battled hard at short stop and made some nice plays. Sally was excellent at 3rd. Craig was faultless in the outfield and Steve G. took some highlight reel catches. Mikala got hit by one very hard hit ball at first but didn't let that put her off and was good all day.
With the bats the OBP leaders were Caroline and Aiden. Home Run heroes were Sally (1), Steve B. (2), Craig (4) and James (5).
Overall we had a successful and enjoyable day. It was dry all day and it had even warmed up a bit by the time we returned from our lunchtime visit to the pub.
| | | |
| --- | --- | --- |
| MVPs | | |