Tournament Reports
North West 2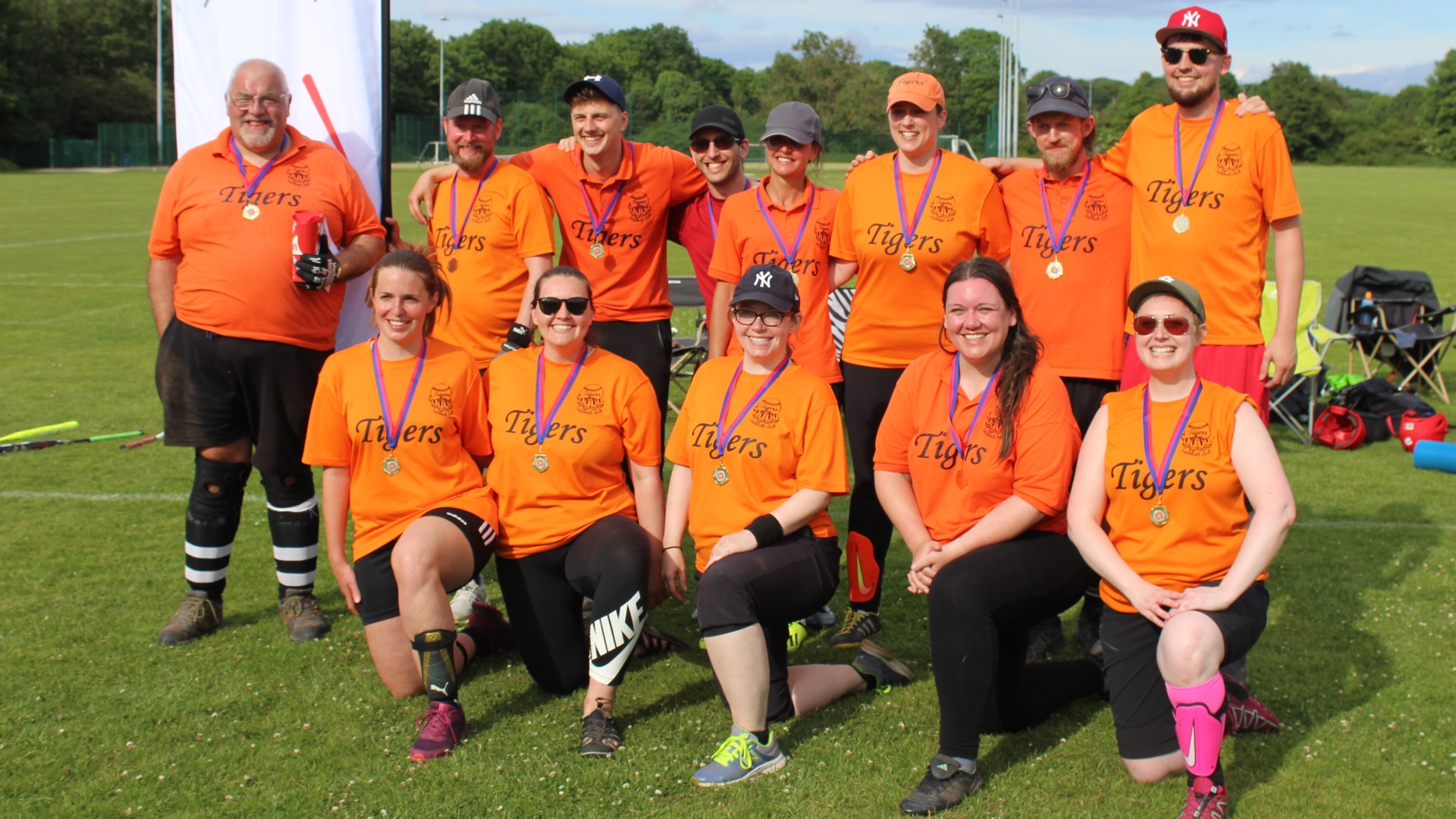 Opponent
Score
Dales
L. 10-11
Stingers
W. 23-3
Thunder
L. 5-8
Seagulls
W. 15-6
Freeze
W. 9-3
Raiders
W. 11-0
Dales
W. 8-5
We started the round robin games with a close defeat to the Dales followed by a comprehensive win over the Stingers. After a short break we suffered another narrow loss to Thunder before a good win against the Seagulls. After a 2nd break we had another pair of games, we put in an impressive performance in defeating Freeze 9-3 before a relatively straightforward win against a promising but rookie Raiders team.
After 6 games on the bounce we then had an our off before the Gold final, an hour that seemed to rejuvenate the younger members of the team but may have had the opposite effect on one or two of the older team members!
The final was a rematch with the Dales who had beaten us both in the round robin and also the weekend before at Leeds. They couldn't make it 3 from 3 though as we put in an impressive defensive display, one good enough to cope with a slightly dodgy pitching performance from a tired skipper and pulled off an 8-5 win.
Over the day male OBP leaders were Ed (933), James (800) and Dave (692). Female leaders were Caroline (833), Emma (750) and TK (615). There were lots of Home Runs, Ed and James hit 3 each, Emma hit 2 and Lynsey and TK claimed 1 apiece.
Fielding was tough in the heat. Jackie and TK were both reliable on 1st, Ollie and Dave both worked hard at pitcher, James made some nice plays in the outfield and Ed got stronger at short stop as the day went on. Victory won us some medals, chocolate and batting cage vouchers, and made the post tournament visit to the pub even more satisfying.
| | | |
| --- | --- | --- |
| MVPs | | |
Leeds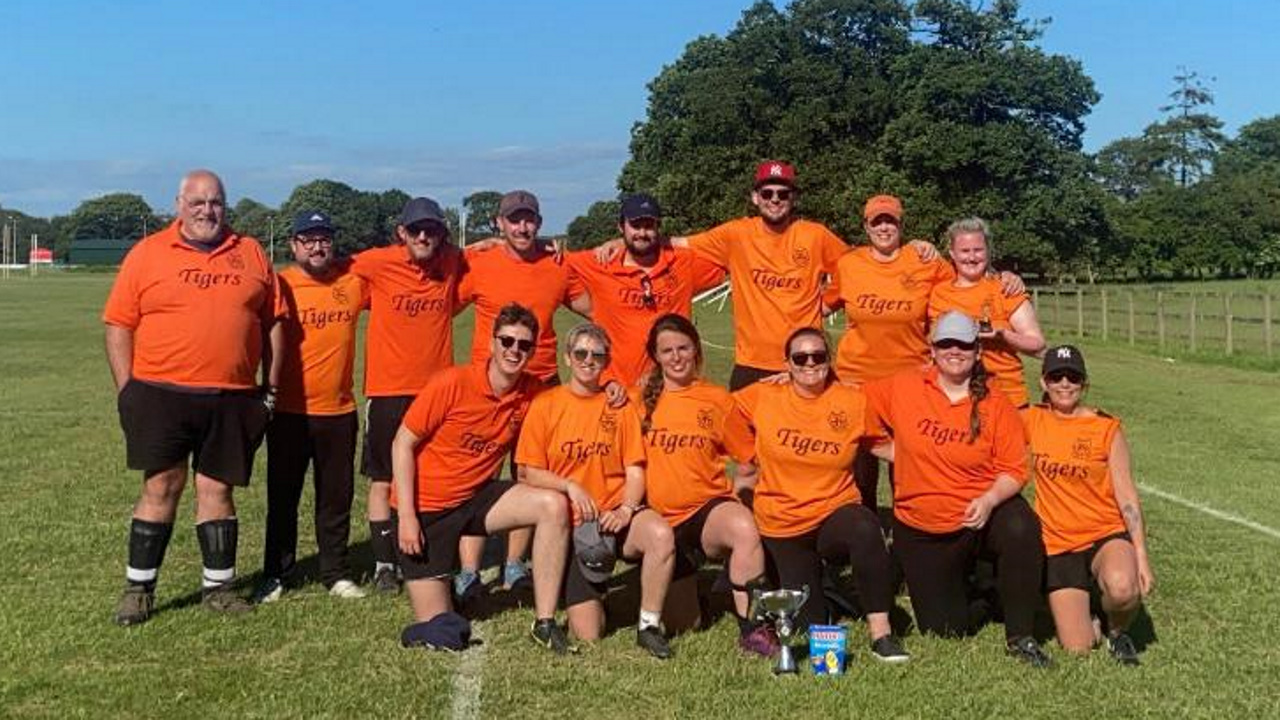 Opponent
Score
Archers
W. 15-3
Pyros
L. 8-9
Dales
L. 13-15
Royals
W. 14-6
Bobcats
W. 18-16
We had a (mostly) up and (occasionally) down time at the Leeds tournament on a day that ended on a high with victory in a high scoring Bronze final against our old rivals the Bobcats.
We had a big squad which meant a great deal of inning and outing and swapping round in a (largely successful) attempt to give everyone an equal amount of playing time and a similar number of plate appearances over the day. It could have caused confusion and ill feeling but instead everyone mucked in and accepted their roles with good grace and had a great day in the sun.
We'd started the day with a routine if slightly boring win against the inexperienced Archers team. Next up was a tough, and close, defeat to the Pyros where we had the tying run on 3rd and the winning run on 2nd when the final out was recorded, a catch of a long line drive that could have won us the game.
After a long (two hour) lunch break we were half asleep in a messy loss to the Dales in which the final score flattered us. We were back in the groove for our final group game, producing some good hitting to chalk up a convincing win against the Royals.
Our 2 & 2 record was enough to put us in both 7th place (of 14) and in the Bronze final against the Bobcats. This last game turned into a bit of a slug fest but we got ahead early and then had a big bottom of the 4th after the Bobcats briefly took the lead in the top of that inning. The 10 runs we scored then gave us a large cushion and it was one that turned out to be just big enough as the Bobcats had a big inning of their own in the top of the 5th and final inning. Alyssa was our stand out player with a Home Run, a Triple and a great outfield catch, which combined won her the female MVP award in the final. Matt (10 for 11) led the Male OBP standings with James (9 for 11) close behind. Jackie, also 9 for 11, topped the female chart with Alyssa (8 for 11) pushing her close. Home Run Queen was Alyssa with 3. Best of the men was James with a pair whilst Harry, Matt and Rich claimed 1 apiece.
In the field Oli and Dave both pitched well. Jackie and TK both played well on 1st Matt did a good job at short and everyone mucked in mixing and matching as required to give everyone game time.
| | | |
| --- | --- | --- |
| MVPs | | |
North West 1

Opponent
Score
Thunder
L. 3-13
Stingers
W. 20-16
Dales
L. 6-20
Seagulls
L. 12-14
Swingers
W. 18-3
Freeze
W. 10-9
Swingers
W. 9-6
After a year away we made a socially distanced return to the field at the North West 1 tournament. Our team was a mix of old hands and new faces and we got better as the day went on. We played six round robin games followed by a placing game to finish a long but enjoyable day in the sun.
Despite some encouraging batting displays some slightly shaky fielding meant that it was tough going early on. After a tough opening game against a strong Thunder line up we won a slug fest against the Stingers but two more losses followed, a heavy defeat against the Dales followed by a much closer game against the Seagulls.
The club captain now appeared on the scene and things soon started to look brighter. Coincidence? We put the Swingers to the sword in Game 5 and then in perhaps our best performance of the day came out on top with a tight 1 run win against a loaded Freeze team.
That win put us into a placing game, facing the Swingers again. Despite the absence of two of our most experienced players in James and Ed and also an improved Swingers performance we still had too much for them and chalked up a satisfying win to round off the day.
Female OBP leaders were Holly, Jackie and Erin with Steve, Oli and James bunched together at the top of the male rankings. Ed was the Home Run King with a pair, with Jackie and Melissa also each claiming a four bagger.
Everyone made a positive contribution to the team performance. To pick out just a few, Mel showed real promise at bat. Steve did a fine job as Captain and put in some strong pitching performances. James made some nice outfield plays with the highlight a catch em out, throw em out double play against Freeze, doubling the runner off second after taking the outfield catch. Courtney showed lots of promise and Erin got on base with great regularity.
| | | |
| --- | --- | --- |
| MVPs | | |