Tigers Tournament Reports 2017
NW Series 3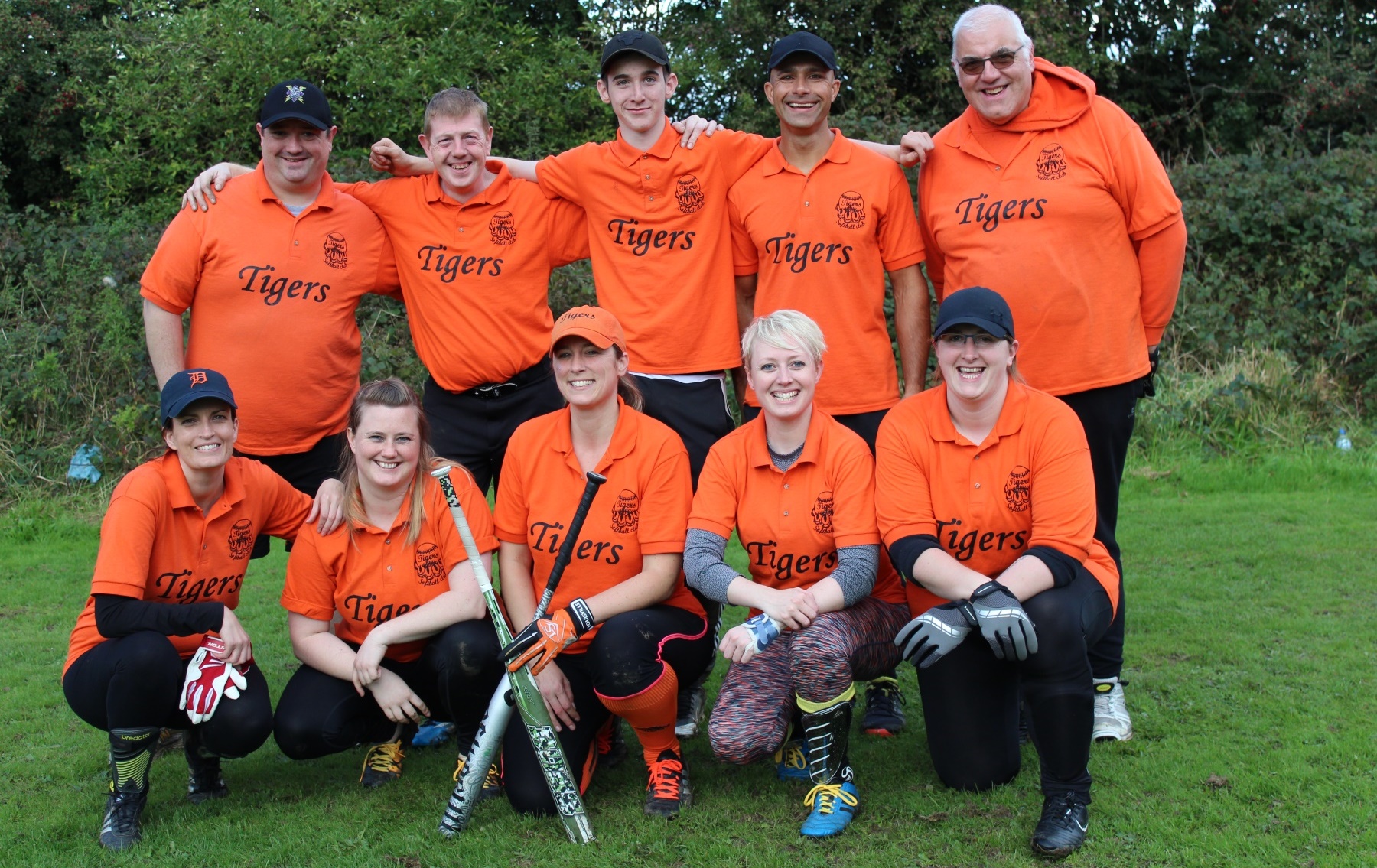 | | |
| --- | --- |
| Opponent | Score |
| Basehunters | W. 24-4 |
| Lightning | W. 9-3 |
| Meteors | W. 13-12 |
| Bobcats | L. 0-13 |
| Rippers | W. 5-4 |
We had a another successful time at the 3rd North West Series tournament, winning 5 out of 6 games to grab a trophy, beer and chocolates !
In the first part of the day we played 4 group games, comfortable wins over the Baserunners and Leeds Lightning were followed by a much closer affair against the Meteors, a game we were lucky to win. In our final group game we were wupped by the Bobcats, a bad injury to Steve B. didn't help as we were shut out having only 2 base runners to our name in the whole game.
The 3 and 1 record gave us a 4th place finish in the round robin stages and a place in the Silver (middle 3) play offs. We put in perhaps our best performance of the day in beating the Sabres before just getting over the line, despite a tired looking performance, against the Rippers in our last game of the day to claim the Silver Cup.
Home Run heroes were Steve G., Michael and Dan with 1 apiece. Male OBP leaders were Dan and Dave. Female leaders were Alyssa and TK.
Many thanks to Danielle and Tania for playing for us. Both played well even though Danielle had never played a competitive game before and Tania came out of retirement after a few years gap to help us out in our hour of need. The traditional post tournament meal in the Gateway was a satisfying end to both a successful day and a successful season.
| | | |
| --- | --- | --- |
| MVPs | | |
Manchester tournament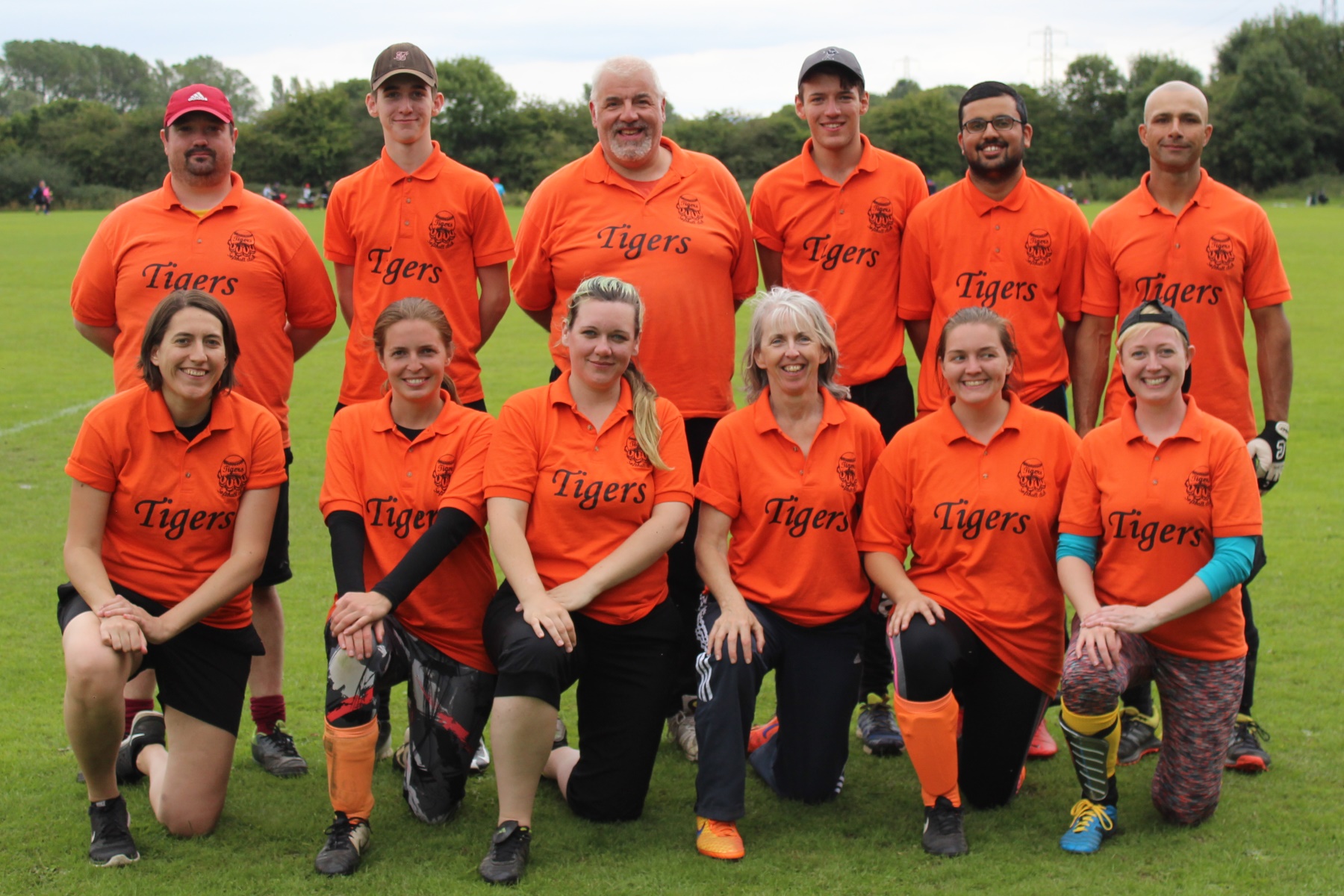 | | |
| --- | --- |
| Opponent | Score |
| Pirates | W. 9-7 |
| Rippers | T. 13-13 |
| Detonators | W. 16-8 |
| Bobcats | L. 5-10 |
| Speeders | L. 5-12 |
| Bats | L. 5-8 |
| Sharks | L. 7-15 |
| Mayhem | W. 6-2 |
| Detonators | L. 9-14 |
We had a fine time at the Manchester tournament, give or take an injury or two. We started with 2 wins and a tie in our 3 initial group games, finishing top of the group and putting us into the Silver competition. We found life a bit tougher in with the big boys but put in a series of creditable performances with the highlights being wins against the Outlaws and our old rivals Mayhem. We finished with a placing game against the Detonators in which we took the opportunity to swap things round in the field and in the batting order and in which Mike pitched a complete competitive game for the first time.
Home Run Leader over the weekend was Mike with 4, followed by Dan and JD with 3 apiece and then Sandra who hit her first 2 Home Runs ever in consecutive at bats against the Sharks on Sunday afternoon. The male OBP top 3 were Dave (832), JD (682) and Dan (636). Female OBP leaders were Sandra (667), Annie (also 667) and Emma (545).
New girl Leila played Softball for the first time ever on the Sunday and looked very promising. Another first was that Caroline's parents finally watched us win a game for the first time after witnessing several Sunday afternoon defeats over the last couple of years. On the injury front Jackie ended up with a sore thumb and seam marks embedded in her skin after being hit by a hard line drive on Saturday which made it hard for her to throw and bat for the rest of the weekend, and JD shed blood for the team sliding into 3rd on the Sunday.
| | | |
| --- | --- | --- |
| MVPs | | |
NW Series 2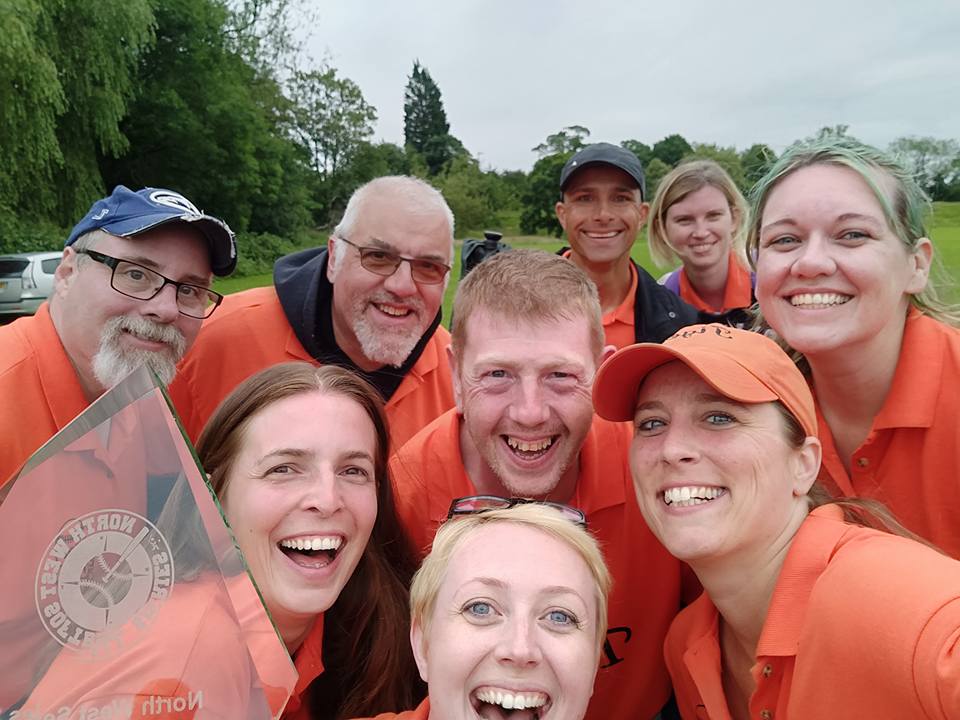 | | |
| --- | --- |
| Opponent | Score |
| Sabres | W. 12-2 |
| Typhoons | W. 17-2 |
| Bobcats | L. 5-8 |
| Rippers | W. 12-2 |
| Lightning | W. 21-2 |
We had a very successful time at the 2nd North West Series tournament, coming out top of the pile, winning 5 out of 6 games to grab the trophy, beer and cake !
In the first part of the day we played 4 group games, comfortable wins over the Sabres and Typhoons were followed by a loss to the Leeds Bobcats in a game we controlled until the last few minutes when a coupled of fielding errors gave the Bobcats a chance for the win which they seized with both hands. In our final group game we returned to form with another comfortable win over the Rippers.
The 3 and 1 record gave us a 3rd place finish in the round robin stages and a place in the Gold (top 3) play offs. First up we got our revenge against the Bobcats in a game that was pretty much a mirror image of our first game against them. We looked well off the pace for most of the game, suffering from the heat perhaps, but kept it close defensively, then seized the initiative in the last inning, scoring 5 runs and we were still batting when time ran out. The final game was a less stressful affair, an easy win against a Lightning team that had perhaps over achieved in the group stages.
There were loads of highlights. TK finally got her 1st Home Run of the season after all her triples. Sully got his first career Homer. Annie tried to catch the ball with her head. Emma did make several successful and game changing catches in the outfield (with her glove). Sandra hit the ball hard and fielded with fierce determination. Mike did a fine job at short stop. Jackie made some excellent throws to first, where Dave and Tony both looked tidy. Jen worked an all-important walk in the decisive game against the Bobcats, Steve did a fine job at pitcher, Sully looked good in his first tournament, Alyssa was impressive in the 2 games she played in short everyone contributed to a fine team performance. Home Run heroes were TK, Michael and Sully with 1 apiece.
Male OBP leaders were Dave, Tony and Sully. Female leaders were Annie, TK and Sandra. Thanks to the various guys who guested for us during the day, allowing us to bat 6&6 in every game and contributing well with the bats.
| | | |
| --- | --- | --- |
| MVPs | | |
Sefton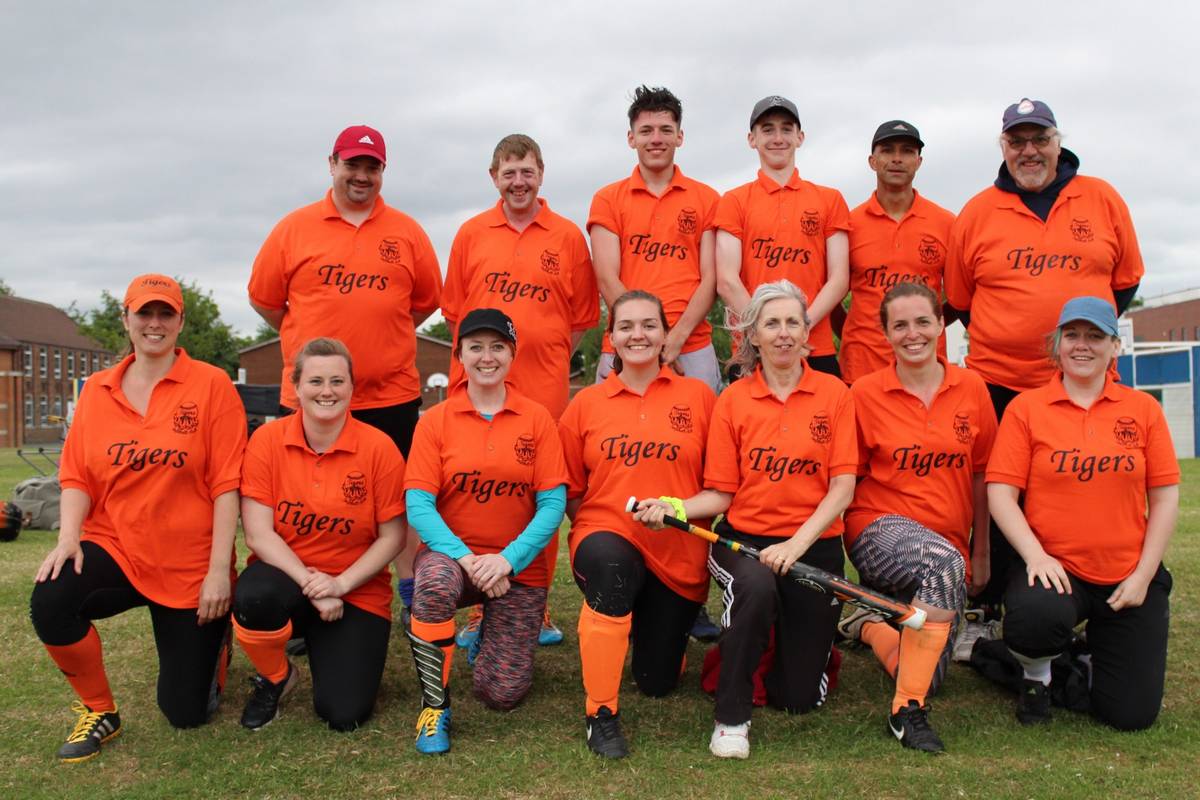 | | |
| --- | --- |
| Opponent | Score |
| Firecrackers | W. 9-2 |
| Vikings | W. 7-6 |
| Meerkats | W. 14-8 |
| * Mavericks | L. 9-13 |
| Dodgers | L. 8-15 |
| Fish | W. 12-4 |
| MK Seagulls | L. 12-13 |
| * Camels | L. 9-14 |
| Trojans | W. 8-7 |
| Meerkats | L. 13-14 |
* = cross group game
We played really well at the Sefton tournament, with strong performances from players up and down the line-up. We played 10 games over the weekend, in the 8 round robin games we achieved a 4 and 2 record within our group and were 4 and 4 overall, a record that put us 4th in our group and into the plate semi final.
On the Saturday we started with a comfortable win against the Firecrackers. That was followed by a tight win against the Vikings and then perhaps our best result of the weekend, a fine batting performance that gave us us a 14-8 victory over the Meerkats. The last 2 games, against Mavericks and Dodgers, were both defeats but, despite our relative our lack of experience, (and lack of NSL players!) we didn't look out of place competing against either opponent. On Sunday morning we registered an easy win against the Fish, followed by close fought defeats to the MK team and the Camels to end the round robin.
We went behind early in our plate semi-final against a hard hitting Trojans team, whose stand out player was former Tiger Mike Gaskell, but a disciplined batting performance, helped by a tag out at home by Annie and some canny pitching by Steve Beddows hauled us back into the game and eventually gave us a narrow win. That took us into a final against a Meerkats team looking for revenge for their defeat on Saturday.
The final was a tight, well-played game. The Meerkats took a 9-5 lead after 3 innings but we didn't let our heads drop. Two runs behind after 6 we tied things up at 13 all half way through the 7th, but a walk off Home Run from Joe Grantham gave the Meerkats the win.
Home Run heroes over the weekend were Dan (7), JD (5) and Michael (3). OBP leaders were Dave (929) and Annie (684). In the field everyone worked hard, stand outs included guest pitcher Steve Beddows who looked good all weekend, Dan and JD who both performed well both at shortstop and in the outfield and Alyssa who made a promising pitching debut as well as doing fine work in the outfield. There were lots of other good performances, and a few bumps and bruises as well, but in the end the biggest plus we can take away from the weekend was the way the whole team kept battling, and often winning, against opponents who were much more experienced and highly ranked than ourselves.
| | | |
| --- | --- | --- |
| MVPs | | |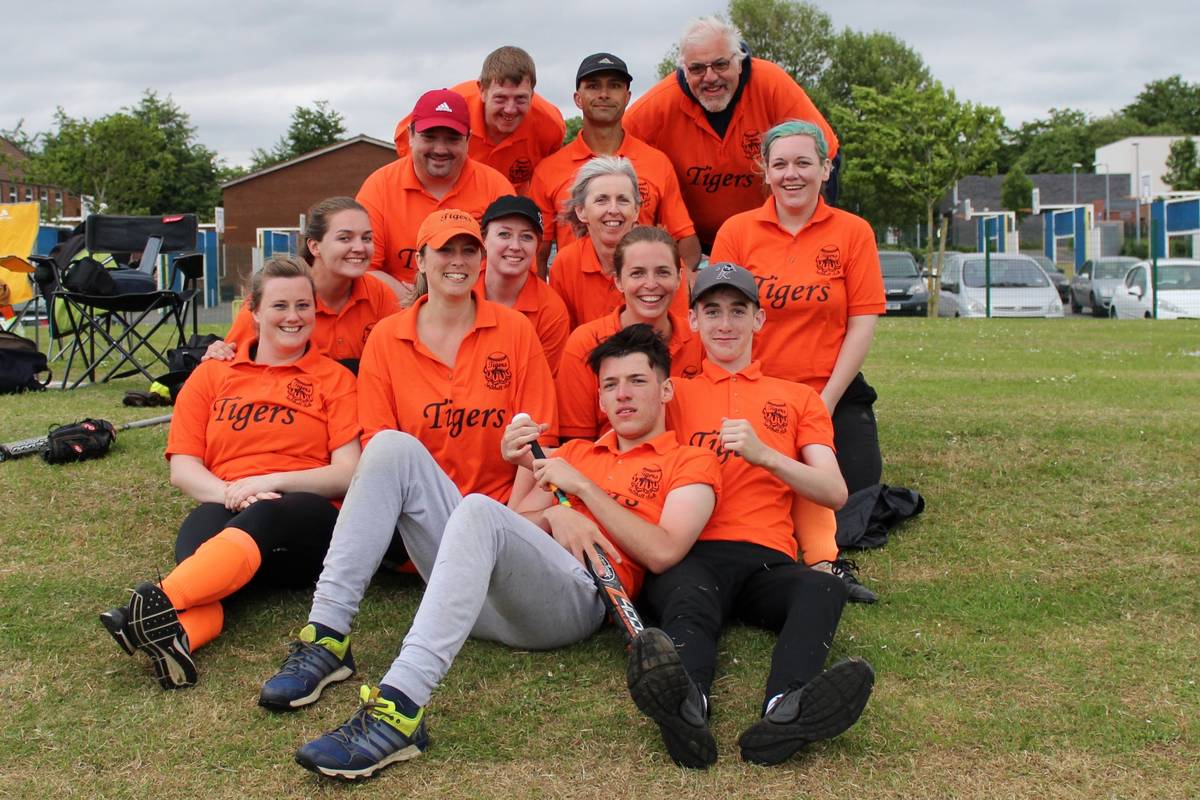 Firstball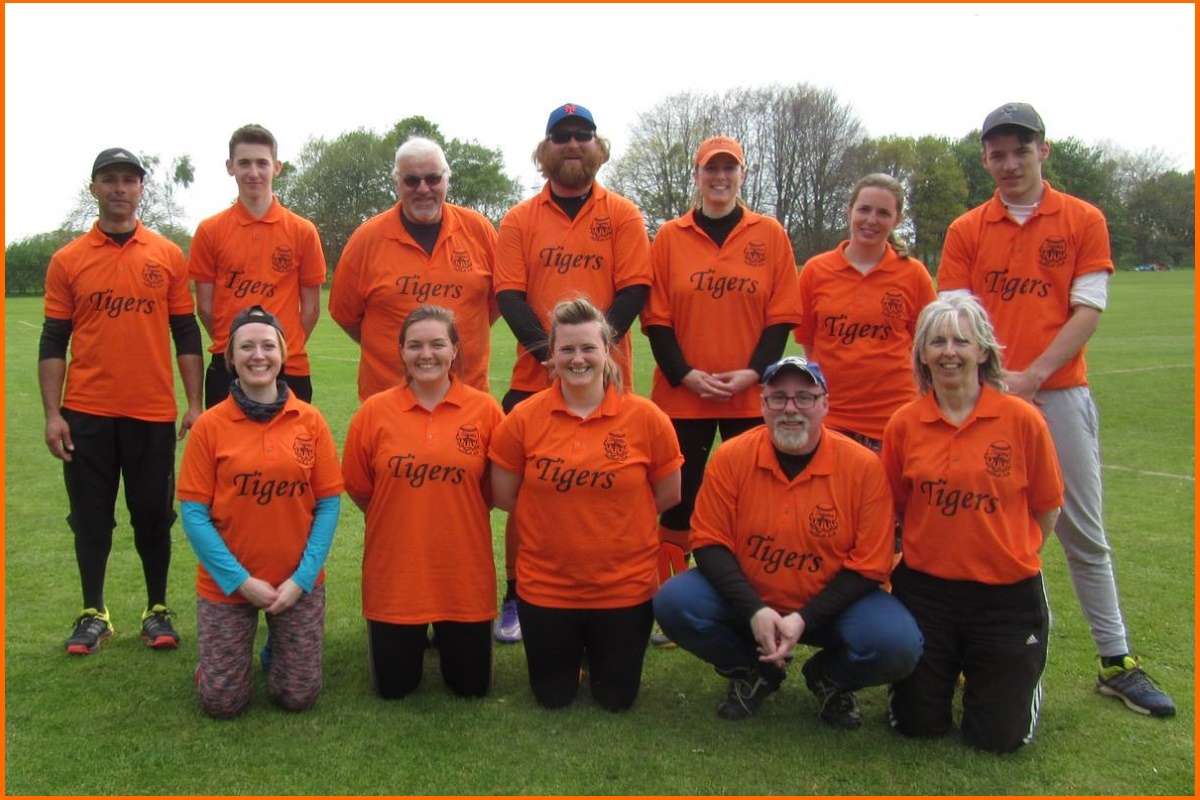 | | |
| --- | --- |
| Opponent | Score |
| Sharks | W. 5-4 |
| Basehunters | W. 12-8 |
| Camels | L. 9-6 |
| Bats | W. 11-7 |
| Rebels | L. 9-14 |
| Rippers | W19-2 |
| Bobcats | L. 6-7 |
New shirts and new bats took centre stage as we played our first competitive weekend of Softball in 2017. Overall we batted really well up and down the order. Defensively it was more of a mixed bag, a mix of everything from really good to err, not quite so good...
We played 3 games in our initial group, winning 2 of them and running out of time in the 3rd in the middle of a great come back inning. In many ways our best performance was in the first game, a 5-4 win against a very strong Sharks line up that featured our best defensive play of the weekend; two strong throws on a relay from the outfield that cut down what had looked like a certain Home Run at the plate.
That put us in another 4 team group and again we won 2 of our 3 games with the stand out performance a 19-2 win against the Rippers, 19 runs that we scored without a single homer.
That meant we faced the Leeds Bobcats in the semi, a controversial game we lost narrowly (7-6) ending with the winning run stranded on 2nd base.
We scored lots of runs throughout the weekend and there were fine batting performances up and down the order. Male OBP leader was Tony who batted 800, with TK (625) leading the way for the women. Home Run heroes were JD (2), Dan (4) and Michael (4).
In the field both the Downes boys performed well both at short stop and in the outfield, though it was Alyssa whose outfield performance shone brightest. Sandra also took some important catches in right field. Michael looked really good when moved across to 3rd and Emma put in a very promising display at 1st. Dave pitched most of the weekend with Tony putting in 2 winning performances in relief.
| | | |
| --- | --- | --- |
| MVPs | | |